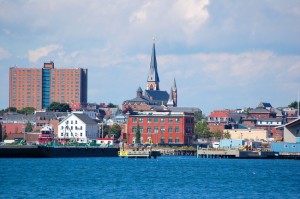 History:
First known as Falmouth, Portland was first permanently settled in 1633 as a trading and fishing village.  Following the American Revolution, a section of Falmouth was separated into it's own town called Portland.  By 1820, Maine had formed as a state, and made Portland its capital.
Getting There:
Portland is approximately an hour and fifty minutes from Boston, and 45 minutes from Portsmouth, New Hampshire.  Portland is easily accessible from Portland International Airport, and an Amtrak train station within close proximity to the airport.
Getting Around:
Portland is a fairly small city, making it walkable for most able-bodied person.  The City also offers a network of bike racks throughout the downtown, which makes getting around by bike a snap.   Visitors driving to Portland will find parking fairly simple, with meters for street parking and public parking garages.  Participating stores offer stamps which are good for one free hour of parking and several different public garages and lots.
What to Do:
Portland is filled with an eclectic array of stores, restaurants and shops, making Portland the perfect place to wander around shopping and eating.  In addition to great stores and restaurants, Portland supports a thriving art community in Portland's Art District area.